MYSTERY #84 PANIGÍRI*
LIVE CINEMA – THE WORKING CLASS – SIRENS
21.04.2023 – 23.04.2023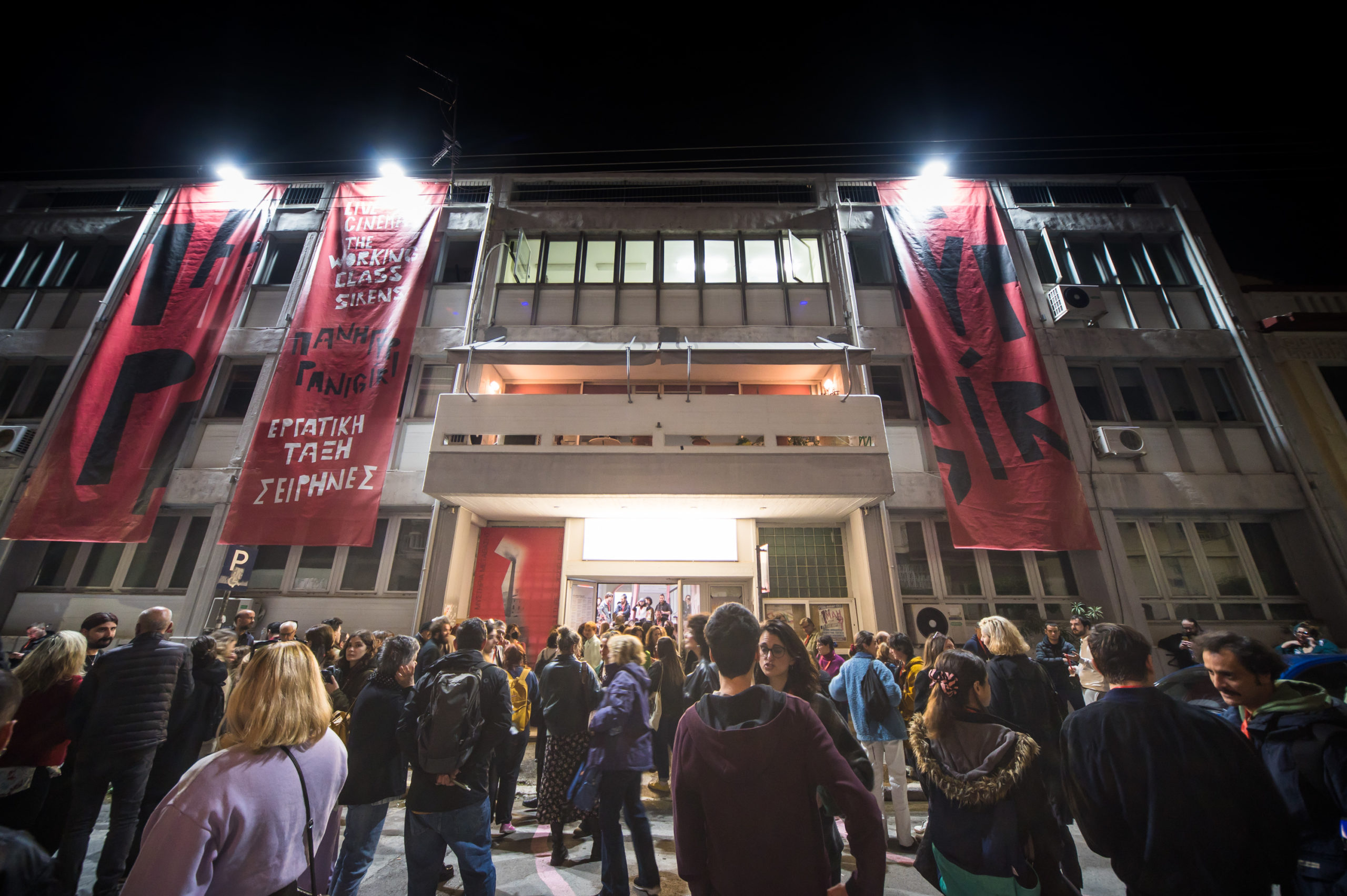 [*county fair, feast day, celebration]
Centring on a folk festivity − the celebration of Saint George held on 23 April, close by the church on Pagalou Street − PANIGÍRI is a live cinema festival that unfolds around the festivity, exploring both the meaning and the visual manifestations of the working class in Europe today, as well as the very aesthetics of live cinema, that is, cinema produced in real time: screening marathons, public speakers under the sound of sirens, and the shooting of two live-cinema films in situ during the festivity, directed by Elke Lehrenkrauss and Syllas Tzoumerkas.
Conceived & Curated by: Syllas Tzoumerkas
Co-curators: Maria Chatzichristodoulou, Lorenzo Esposito
Original films' directors: Elke Lehrenkrauss, Syllas Tzoumerkas
Live performances: ZU-UK
Screening marathon organisation: Nektarios Sakkas
Production designer: Pinelopi Valti
Public speaking marathon: Matt Adams, Orestis Andreadakis, Philip Auslander, Niya B, Donatella della Ratta, Vangelis Ligos, Karel Och, Irini Papadimitriou, Argyris Papadimitropoulos, Elina Psykou, RAM Botero, Chris Salter.
Screening marathon with films and works by: Matt Adams, Chantal Akerman, Oreet Ashery, Bernardo Bertolucci, Kathryn Bigelow, Mariano Blatt, Mel Brimfield, Ruggero Deodato, Brian DePalma, Disabled Avant-Garde (DAG), Alexis Damianos, Lav Diaz, Michael Glawogger, Jonathan Glazer, Hugo Glendinning, Jean-Luc Godard, Jean-Pierre Gorin, Fred Halsted, Adrian Heathfield, Werner Herzog, Stefan Jarl, Avo Kapraelian, Elke Lehrenkrauss,  Jan Lindquist, Anne-Marie Mieville, Drew Pham, Hanna Polak, Paul Preciado, Ulrich Seidl, Albert Serra, JP Sniadecki, Wim Wenders, Monika Willi,  Eduardo Williams, Helena Wittmann.
Producer: Konstantinos Sakkas
Production coordination: Anna Vakontiou
production consultant: Maria Drandaki
Curation assistant: Nikos Kolioukos
Production Management: Delta Pi
Commissioned & Produced by 2023 EΛEUΣΙΣ ΕUROPEAN CAPITAL OF CULTURE
with the collaboration of THESSALONIKI INTERNATIONAL FILM FESTIVAL and LADA
with the support of EMBASSY OF ITALY IN ATHENS & THE ITALIAN CULTURAL INSTITUTE OF ATHENS, GOETHE INSTITUT-ATHEN, KINGSTON UNIVERSITY